Let's face it; your face is feeling the full-on effects of the festive season. Too much make-up, too many proseccos and too many trips to the Celebrations tin have played havoc with your skin. It's looking puffier than a pig in blanket, your dark circles can probably be seen from space and you sense a concealer-can't-even-help breakout coming on. We know you're not going to start jade rolling, mixing masks from turmeric or working out how to use your new, futuristic LED light thingy, so how about trying this hangover-friendly detox instead? Follow these (pretty easy) skincare steps to erase all signs of excess and bid goodbye to hangover skin blues. We can't promise it'll help your headache, but it will help you fast track your way to flawless skin and isn't that everyone's new year's resolution?
1) Raise a glass
And no, we don't mean the Bloody Mary kind. Firstly, partying will leave you (and your skin) feeling parched. Cut the coffee and pour a pint of water, then pour another one. And for safe measure, pour one more. Alcohol drastically dehydrates you and your skin will be dying for a drink. Keeping yourself hydrated with fluids from within will help with dullness, puffiness and future breakouts. Nutrient-rich breakfasts – avoid anything on UberEats – helps too.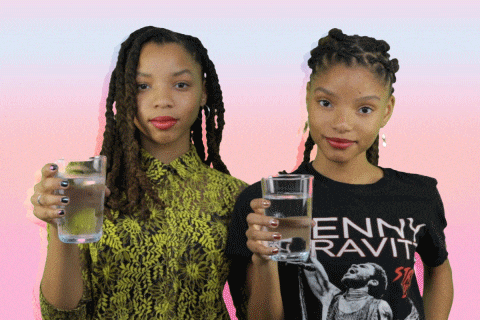 2) Wipe away the leftovers
Likewise, you may have tried to take off your make up the night before (we applaud the effort) but a clumsy swipe with a dry makeup wipe that you found at the side of your bed won't cut it. Wipe away the excess eyeliner and leftover foundation smears with a gel cleanser. Use firm strokes to get the blood moving to your face, even if you can't quite face leaving your bedroom yet.  
3) Energise and exfoliate
Time to buff away the bad. Exfoliating removes dead skin cells, increases the benefits of your cleanser and brightens your skin by improving your circulation. In short, a vigorous scub is about to kick your hangovers behind.

If you're feeling particularly defeated (and can stomach the smell) soak a cotton pad in apple cider vinegar. It'll give your go-to toner a boost.
4) Fix it with a facemask
Facemasks are the closest thing you're getting to a facial in your pyjamas. Therefore, choose wisely and base your decision on what your biggest skin concern is. Too tired to think? When it doubt, stick to an ultra-rich, intensive moisturise mask – your skin likely feels as dry as your mouth did this morning.
Clay mud masks are best for when you feel a breakout is brewing, as they'll treat clogged pores and clear congestion. They also work hard to eliminate surface impurities and zap lingering toxins from the skin.
However, vitamin C-infused serums and masks will help neutralize your skin and calm inflammation. It'll bring your back your glow quicker than you can say 'I'm never drinking again' in your group WhatsApp.
Hydration is the secret to healthy looking skin and is a must post-partying. Sheet masks soaked in hyaluronic acid will help bring back essential moisturise and will start to combat any alcohol-related dryness. Especially since this all-hail hero product holds more than 1000-times its weight in water.
And if all else fails…
Finally, take a warm bath filled with Epsom salts. The salts will soothe muscles, help with stimulating blood vessels and requires a lot less effort than a sit-down shower. Plus, it should restore you back to something that resembles half a human. Remember not to run the water too hot; heat is not your hangovers friend.